newspaper in education
Curriculum
One of our main goals is to provide teachers with standards-based curriculum for many subjects and grade levels. NIE Coordinators also work with local businesses to produce unique curriculum offerings. For a full list of free curriculum, please visit the Curriculum link on the Teachers Recources Tab above.
About NIE
There's more to learning than just reading, writing and arithmetic. One of the best ways for kids to receive a well-rounded education is through the Newspaper in Education program.
By incorporating the newspaper in routine subjects of our education system, students see how subjects such as math, reading, science, and history play an important role in real life. The newspaper is the only text the majority of children will continue to read throughout their lives. We believe this program is an important link to the future of our children; we are inviting everyone to become a part of it.
Each school year, teachers from all levels, elementary, middle, high school and higher level institutions, are provided with access to the digital edition of the newspapers for use in their classrooms. Classrooms all over southwestern Pennsylvania benefit from the program. The NIE program provides teacher guides that offer many suggestions on how the newspaper can be used as a teaching tool. This program helps make learning fun and educational.
Students use the newspaper to enrich their education in a variety of subjects:
Science: Students use newspapers to learn about weather, environmental problems, space exploration, synthetic products and energy.
Math: Students use newspaper advertisements, sports pages, financial sections, stock markets, and charts and graphs.
English: Students learn to write, edit, and publish stories in a variety of writing styles.
Contact Us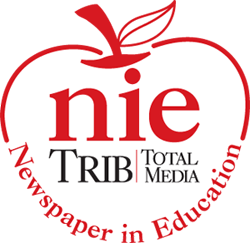 Our Mission
"Literacy is essential for the future success of our students and the viability of the community we serve. The Newspaper in Education (NIE) program is dedicated to strengthening literacy by providing educators with access to the digital edition of the newspapers, quality instructional material and training that will enrich the curriculum and assist in teaching reading, writing and thinking through the use of the newspaper.

It is the mission of our NIE program to collaborate with businesses, corporate partners and other organizations, foundations and individuals to create partnerships that will provide teachers with materials and create a fun and motivational learning environment that will encourage a lifetime of reading."
---